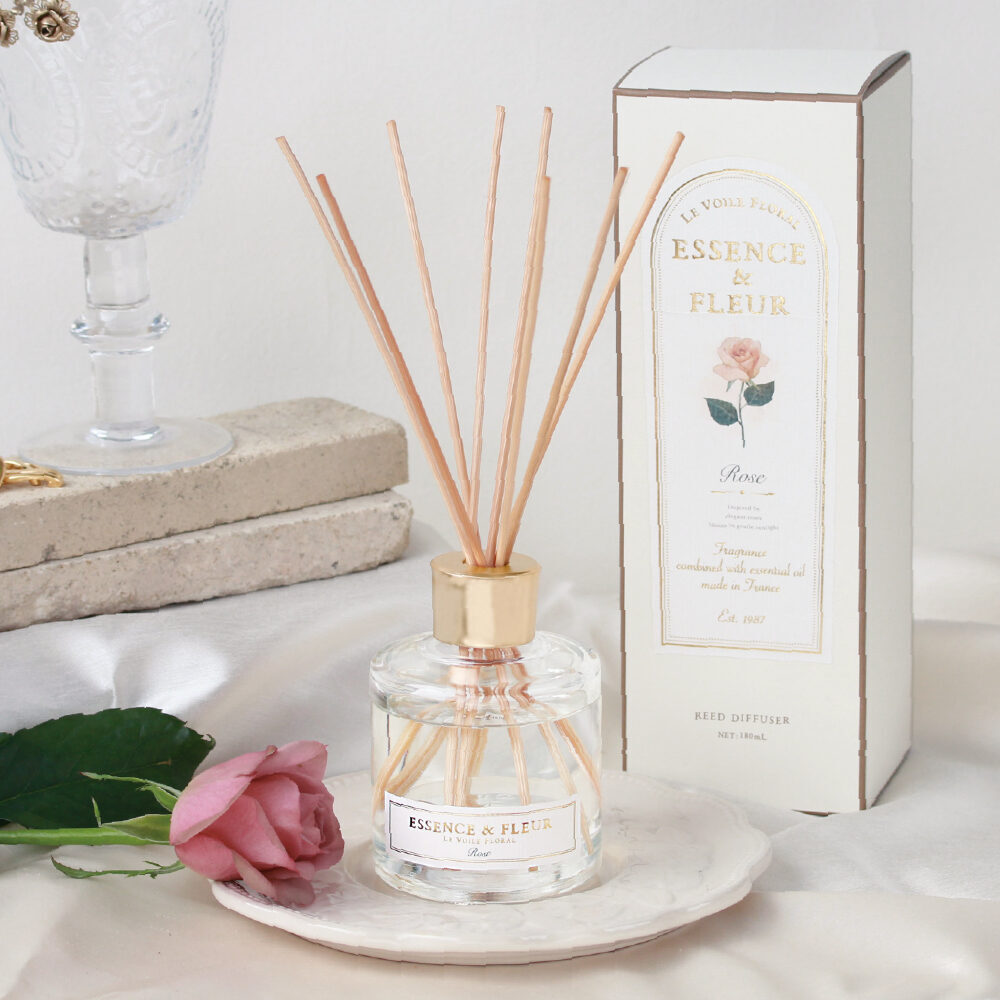 Le Voile Floral – Reed Diffuser 180
¥4,000 (tax excl.)
In the past, French noblewomen enjoyed wearing soliflore perfume.
Fragrances in ESSENCE & FLEUR~Le Voile Floral~ series are blended with the oil made collaboration with long-established fragrance manufacturer in Grasse, the heart of the French perfume industry in southern France.
The five floral scents come in 180ml bottle to enjoy longer.
The fragrances bring your room not only a pleasant scent but also an elegant look.

Non-alcoholic, essential oil blended
Enjoy the floral fragrances loved in France for years.

| | |
| --- | --- |
| Size | W85×D85×H250mm |
| Quantity | 180mL Oil+10 Sticks+ 1 Top cover cap |
| Fragrance duration | 4 to 4.5 months |
*Please be aware that there may be differences or changes in colors due to the ingredients, however this does not affect the quality during use.
ROSE

LVO-201
JAN:4530754047328

A fragrance inspired by elegant roses bloom in gentle sunlight

Floriography: Love, Beauty
Rose is the most loved flower from ancient times. According to Greek mythology, it is said that rose petals were falling from the sky when the goddess of love, Aphrodite was born.

VIOLETTE

LVO-202
JAN:4530754047335

A bracing fragrance inspired by fantastic violets

Floriography: Faithfulness, Everlasting love
Napoleon, the emperor of the French, was a great fan of violet and known as "Father Violet". It is said that he sent Josephine, his beloved wife a violet bouquet on every wedding anniversary.

MUGUET

LVO-203
JAN:4530754047342

A fragrance inspired by lily of the valley swings by crisp wind

Floriography: Happiness, Good luck
Lily of the valley, known as "Our Lady's Tears" because of its shape, is thought to bring luck in love and happiness. It is a tradition to give a sprig of lily of the valley to loved ones or family members as a gift in France on 1st May.

FREESIA

LVO-204
JAN:4530754047359

A fragrance inspired by brightly flowered freesia

Floriography: Affection, Innocence
It is said freesia was named by a botanist to celebrate friendship with his best friend, Freese.
Freesia is used to represent "friendship" and "trust".


MIMOSA

LVO-205
JAN:4530754047366

A fragrance inspired by the gentle mimosa which envelopes you in a warm embrace

Floriography: Appreciation, Thoughtfulness
Mimosa, a golden flower that adorns the town as a beloved reminder that Spring is near.
European culture enjoys giving loved ones mimosa to express their gratitude.