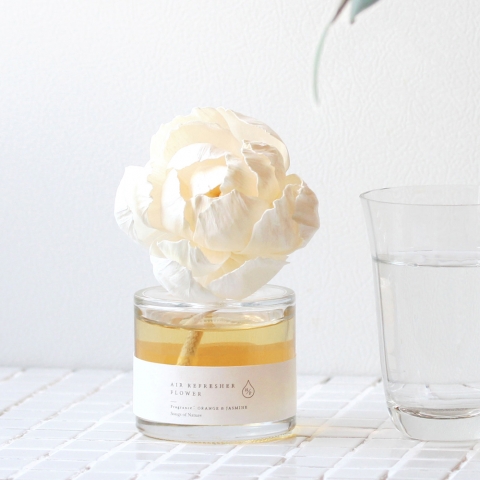 HP – HP Air Refresher Flower
¥2,700 (tax excl.)
A room fragrance with 100% natural ingredients made of natural fragrance and plant-based fermented alcohol.
It is safe for pet and child. Enjoy the nature's blessings and refreshing your room with natural plant scent.

Carefully selected 100% natural fragrance

No synthetic fragrance and coloring is applied.
With a support from the world's farmer, only the carefully selected natural fragrance is used.
Plants harvested by the farmer's effort and experience are high quality.
Enjoy a fresh fragrance of plants as it feels like it is just squeezed.

Nature - base gentle recipe

Based on the concept of "bring in /take in the blessing and power or nature", H/P
series is produced with a nature-base gentle recipe no harm to people.
Enjoy the power and kindness of the plants in your life.
| | |
| --- | --- |
| Size | W97×D97×H175mm |
| Quantity | 90ml oil+1 piece sola flower |
| Fragrance duration | 1~1.5 months |
*Please be aware that the fragrance's duration varies with climate, temperature, humidity, room size and where the product is placed. A gentle fragrance from blessings of nature.

Based on the concept of "feel plant's blessings and power in daily life",
H/P series brings you to enjoy precious essence and pure fragrance extracted
from the plants grow from the nature's blessings.
It fulfills your heart and daily life.
Orange & Jasmine

HPS-101
(4530754042460)

Chamomile & Lemon

HPS-102
(4530754042477)

Rosemary & Sage

HPS-103
(4530754042484)

Bergamot & Rose

HPS-104
(4530754042491)