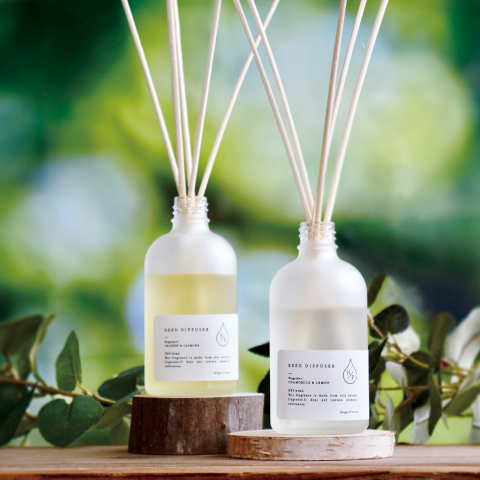 HP – HP Reed Diffuser 90
¥1,800 (tax excl.)
A room fragrance with 100% natural ingredients made of natural fragrance and plant-based fermented alcohol.
It is safe for pet and child. Enjoy the nature's blessings and refreshing your room with natural plant scent.
Feel free to enjoy the fragrance with decent size.

Carefully selected 100% natural fragrance
No synthetic fragrance and coloring is applied.
With a support from the world's farmer, only the carefully selected natural fragrance is used.
Plants harvested by the farmer's effort and experience are high quality.
Enjoy a fresh fragrance of plants as it feels like it is just squeezed.
| | |
| --- | --- |
| Size | W60×D60×H260mm |
| Quantity | 90ml+5 Sticks |
| Fragrance duration | 1month using 5 sticks |
*Please be aware that the fragrance's duration varies with climate, temperature, humidity, room size and where the product is placed.
*Due to 100% natural ingredients, it may be slightly colored or have a muddiness, however, this does not affect the quality of the product. A gentle fragrance from blessings of nature.

Based on the concept of "feel plant's blessings and power in daily life",
H/P series brings you to enjoy precious essence and pure fragrance extracted
from the plants grow from the nature's blessings.
It fulfills your heart and daily life.
Orange & Jasmine

HPD−201
(4530754041135)

Chamomile & Lemon

HPD−202
(4530754041142)

Rosemary & Sage

HPD−203
(4530754041159)

Bergamot & Rose

HPD−204
(4530754041166)