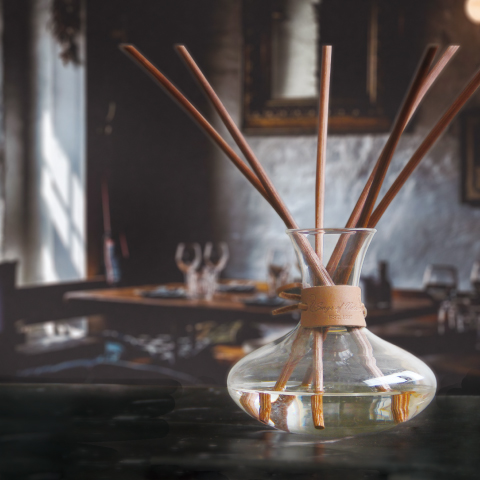 Carafe Diffuser
¥10,000 (tax excl.)
Carafe diffuser is inspired by wine characteristics.
Using gorgeous package, it is highly recommended for a gift.
Please pour oil into carafe and insert the reed sticks to use.
| | |
| --- | --- |
| Size | Around W220×D140×H192mm |
| Quantity | 500ml Fragrance Oil+1 carafe + leather belt(real leather)+6 sticks |
| Fragrance duration | Around 6 months |
*Please be aware that the fragrance's duration varies with climate, temperature, humidity, room size and where the product is placed.
*It takes around one week for the sticks to absorb oil. After that, the rich fragrance permeates.
CHAMPAGNE
(Reed stick attached)

CD-03
(4530754041272)

Refreshing fragrance inspired by Champagne
Top: Muscat, Nectarine, Pomelo, Blackcurrant
Middle: Hyacinth, Muguet, Aquatic note
Base: Musk

BOURGOGNE
(Reed stick attached)

CD-04
(4530754041289)

Tasteful fragrance inspired by Bourgogne wine
Top: Wild strawberry, Raspberry leaf
Middle: Red rose, Pomegranate
Base: Rosewood, Mahogany, Amber

ROSE WINE
(Reed stick attached)

CD-05
(4530754041296)

Elegant fragrance inspired by Rose wine
Top: Rose wine, Hibiscus
Middle: Rose petal, Raspberry
Base: White musk, Amber