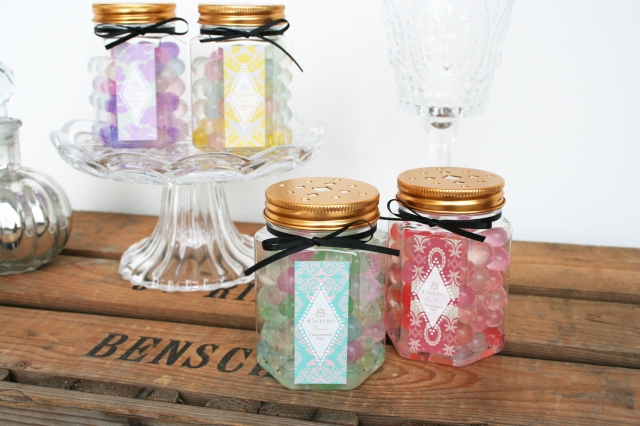 4.Scenes – Fragrance Gel
¥680 (tax excl.)
A fragrant gel that glitters like a precious stone in a mixture of overlapping colors.
Emitting a profound atmosphere, these fragrances have emerged from 4 different scenes and add richness to everyday life. Enjoy the fragrances' full-bodied tones. This bottle-type fragrance can be easily placed in a room, entrance or bathroom.
| | |
| --- | --- |
| Size | W64×D56×H90mm |
| Quantity | 110g |
| Fragrance duration | approx. 3 to 4 weeks |
*Please be aware that the fragrance's duration varies with climate, temperature, humidity, room size and where the product is placed.
*Please do not place in hot and damp locations exposed to direct sunlight such as the inside of vehicles during summer.
Vacance

SCG-101
(4530754032430)

An aquatic recipe blending Mediterranean lavender, Sicilian lemon, hydrangea and more. A fragrance inspired by a holiday in the South of France.

The blue of the sky and sea, the beaming sunlight, a gentle pleasant wind. A time of dreams. Like a relaxing vacation spent with the one you love. Forget about your everyday worries and slow down. I want to experience this idyllic, ephemeral moment forever.

Tea time

SCG-102
(4530754032447)

A blend of lemon grass and pomelo on top with flowery notes of mimosa, orange blossom, honeysuckle and more. A fragrance inspired by tea time wrapped in the pleasant afternoon sun and the aroma of flowers.

Tea time spent with a close friend surrounded by the pleasant light of late afternoon. The table is decorated with flowers picked from the garden and tasty tea and sweets. You talk about your delicious lunch, yesterday's events and love, as you lose track of time caught up in conversation.

Siesta

SCG-103
(4530754032454)

Flowery notes of muguet, mandarin and white jasmine blended with the deep aroma of Nuwara Elliya (black tea). A fragrance inspired by a midday nap under a tree.

Showered in gentle light, you lie under a tree, reading a book in the warm bright afternoon. Surrounded by the scent of greenery and field flowers,
a song of the birds, and, at times, a pleasant breeze. As you become sleepy, you close the book and take a nap.

Soirée

SCG-104
(4530754032461)

Pomegranate, daffodils and ginger topped with floral notes of lilac, violet and rose. An exotic fragrance inspired by scenes of going out on a soiree wearing a deep purple dress with a velvet hue.

Tonight you are dressed in your best as you head out. You put on your favorite perfume and set out into an exotic world. A bright chandelier, velvet, the voices of people having fun and music. You become enraptured in the glamor of the moment.