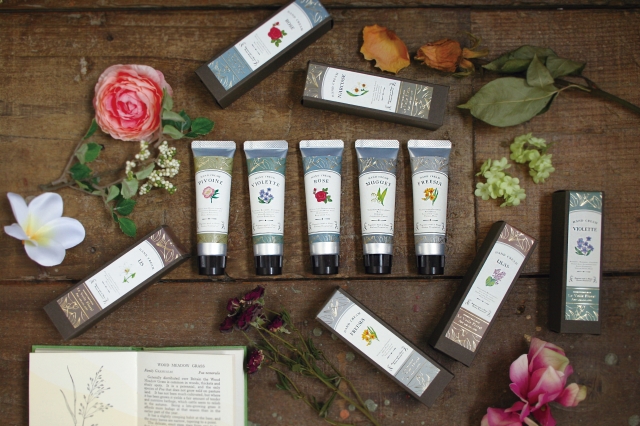 Le Voile Floral – Hand cream
¥1,250 (tax excl.)
| | |
| --- | --- |
| Size | W33×D33×H120mm |
| Quantity | 30g (Shea butter, Prune seed oil combined.) |
*Depending on the method of storage, the consistency, viscosity and color of the hand cream may change, however, this does not affect the quality.
Our fragrance series is packed with the beauty and charm that flowers have been recognized and loved for since the beginning of time.
Introducing the Le Voile Floral hand cream series.
Enjoy the rich, lifelike fragrance of flowers.

The fragrance for the Hand Cream was made in collaboration with a well-established perfume maker in the town of Grasse Southern in France. The rich fragrance of real flowers gracefully envelops your hands and is made from a blend of shea butter and prune seed oil combined cultivated in the Pujols village near Agen in Southern France. Enjoy not only the fragrance but the gently moisturizing agents that hydrate your skin.
Lis (lily)

LVH-101
(4530754035592)

With its pure white color and sweet fragrance, the relaxing lily is a symbol of the goddess Juno from the ancient Greco-Roman era. It also is a symbol of fecundity and prosperity and, in the era of Christ, accompanied announcements of a child's conception as an expression of purity. From this meaning of purity, the flower has become a fixture in wedding ceremonies today.

Flower meaning: Genuine, Purity, Dignity

Lilas (lilac)

LVH-102
(4530754035608)

A light-purple flower, small in size with a rich fragrance, the lilac is known as lilas in French and is beloved as a harbinger of spring. The phrase 'when the lilas bloom' when translated carries the meaning of 'the most wonderful season'.

Flower meaning: Memories, Friendship

Narcisse (Daffodil)

LVH-103
(453054035615)

Daffodils offer a sense of freshness and vibrancy. The flower's botanical name 'Narcisse' is derived from the handsome young character of Narcissus in Greek mythology. It is a strong and sturdy flower that blooms even in winter, giving it the added title of 'snow flower'. Symbolizing hope and strength due to its sturdiness and beautiful appearance, it provides people with confidence and energy.

Flower meaning: Mystery, Respect, Nobility

Pivoine (Peony Root)

LVH-104
(4530754035622)

Much like the Japanese idiom on the peony, this flower represents beauty in women. The botanical name Pivoine is derived from the Greek mythological god Paeon, who healed the goddess Leto of disease with the roots of a peony.

Flower meaning: Shy, Kind hearted

Violette (Violet)

LVH-105
(4530754035639)

Along with the rose and lily, the violet has been prized since ancient times in the Western world. The late French emperor Napoleon, who so loved this flower, is said to have presented his wife Josephine with violets each year on their wedding anniversary.

Flower meaning: Modesty, Honesty, Happiness

Rose

LVH-106
(4530754035646)

A flower loved by all, the rose's beauty represents nobility and has been cherished since long ago. In Greek mythology, it is said that when the goddess of love Aphrodite was born, a rose petal fell from the sky.

Flower meaning: Love, Beauty

Muguet (Lily of the Valley)

LVH-107
(4530754035653)

From the flower's shape, it has earned the name 'Virgin Mary's Tear' and is thought to bring good luck to those around it. There is a custom celebrated in France where on the 'Lily of the Valley Day' the Muguet is presented to loved ones to send them happiness.

Flower meaning: Happiness comes around

Freesia

LVH-108
(4530754035660)

A Danish botanist named Ecron discovered the freesia in South Africa and named it after one of his pupils and close friends, the German doctor 'Freese'. In the west, it carries the meaning of friendship and trust and is cherished by many.

Flower meaning: Innocence, Deep affection