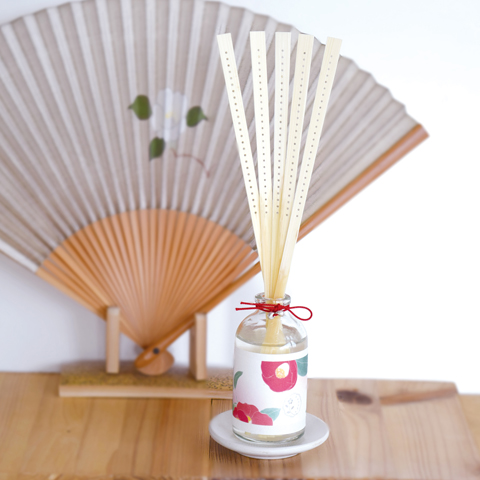 wanoka – Bamboo Diffuser
¥1,500 (tax excl.)
The stick design is inspired by ribs of Japanese folding fan that will absorb the oil. This is a fragrant item without using fire. The sticks are made of bamboo material. Only the center part of bamboo is selected since it is softer which makes the fragrance more efficient and aromatic.
| | |
| --- | --- |
| Size | W60×D51×H225mm |
| Quantity | Oil 50ml + 5 bamboo stick |
| Fragrance duration | approx. 1 month |
*Please be aware that the fragrance's duration varies with climate, temperature, humidity, room size and where the product is placed.
wanoka

Passage of the seasons,
Fragrance of four season flowers

Living with four seasons in Japan, temperature, color and scent change as to the arrival of each season.
These changes realize us 'the time' in our life.
"wanoka" reminds us a sensitivity of Japanese life style
and somehow brings you a relaxing moment.
SAKURA

WND-101
(4530754037084)

A sweet fragrance inspired by cherry blossoms.

SUIREN

WND-102
(4530754037091)

A clean fragrance of a water lily.

KINMOKUSEI

WND-103
(4530754037107)

A floral and sweet scent inspired by fragrant orange-colored olive.

TSUBAKI

WND-104
(4530754037114)

A graceful, deep fragrance inspired by camellia.