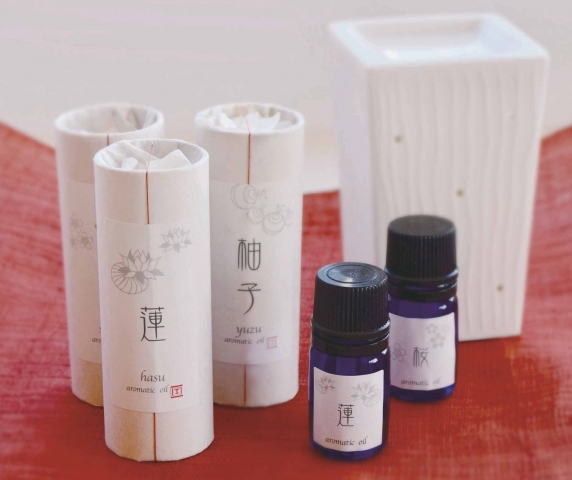 Perfumed Oil
¥680 (tax excl.)
This Japanese aroma oil comes in a bottle that has been placed inside a paper sleeve and carefully wrapped to deliver a package with a welcoming feel. Use this oil with an aroma light or aroma pot.
| | |
| --- | --- |
| Size | Φ30×H85mm |
| Quantity | 5mL (approx. 83 drops) |
*Please take care as application to colored items or painted surfaces may damage the color.

*When using with other commercial warmers or aromatic devices, please make sure to read and confirm with the manufacturer instructions before use. Please be aware that we bear no responsibility in the event of an accident or defect.
●Hinoki oil compound
Hinoki oil is made from cypress oil extracted predominantly from Aomori white cedar (approx. 1%) that is further separated and refined with only another 1% extracted making it an extremely valuable essential oil. It is known for having exceptional sanitizing, anti-inflammatory and antibacterial properties.

●How to use
・Fill the aroma pot plate with water and add a few drops of oil to fully experience the fragrance.
・Fill a bowl or cup with hot water and add a few drops for a simple experience of gentle fragrances.
・Place a cotton ball or tissue on a small plate and add a few drops to enjoy the fragrance at your desk, bedside or other convenient location.
(*Please take care not to ingest the oil or apply directly to the skin)
Momo (Peach)

CTO-101
(4530754022165)

A sweet fragrance inspired by peach flowers

Sakura (Cherry Blossoms)

CTO-102
(4530754022172)

A sweet fragrance inspired by cherry blossoms

Fuji (Japanese Wisteria)

CTO-103
(4530754022189)

A splendid fragrance inspired by wisteria

Ajisai (Hydrangea)

CTO-104
(4530754022196)

A gentle fragrance inspired by hydrangeas

Mizu (Water)

CTO-105
(4530754022202)

A crisp fragrance inspired by water

Wakatake (Young Bamboo)

CTO-106
(4530754022219)

A refreshing fragrance inspired by young bamboo

Hasu (Lotus)

CTO-107
(4530754022226)

A clean fragrance inspired by lotus

Nadeshiko (Dianthus)

CTO-108
(4530754022233)

A fragrance inspired by the dianthus flower

Kinmokusei (Fragrant Olive)

CTO-109
(4530754022240)

A sweet, fruitlike fragrance inspired by osmanthus

Yuzu (Citron)

CTO-110
(4530754022257)

A citrus fragrance inspired by the Japanese citron.