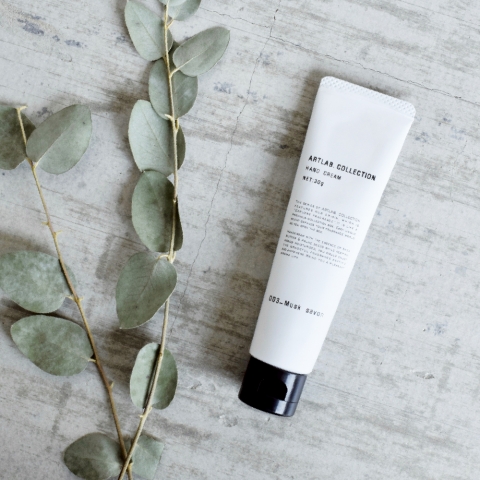 ARTLAB. COLLECTION – Hand Cream
¥1,200 (tax excl.)
Hand cream with shea butter& prune seeds
While keeping hands moisturized, you could enjoy the graceful fragrance anytime.
Its unisex package is highly recommended for a gift.
| | |
| --- | --- |
| Size | W38×D24×H130mm |
| Quantity | 30g(Shea butter, Prune seed oil combined.) |
*Depending on the method of storage, the consistency, viscosity and color of the hand cream may change, however, this does not affect the quality.
Deep blue

ALBH−001
(4530754045270)

Inspired by deep ocean blue.

Sweet floral

ALBH−002
(4530754045287)

Sweet and rich floral scent.

Musk savon

ALBH−003
(4530754045294)

Gentle and relaxing fragrance of savon.

Fruity citrus

ALBH−004
(4530754045300)

Fresh and juicy fragrance of citrus.

Fresh green

ALBH−005
(4530754045317)

Gentle green scent that surrounds you.

Tea leaves

ALBH−006
(4530754045324)

Light and refreshing fragrance of green tea.

Freesia

ALBH−007
(4530754045331)

Sweet and charming fragrance of freesia.

Herb garden

ALBH−008
(4530754045348)

Lovely and graceful fragrance of flowering herb.