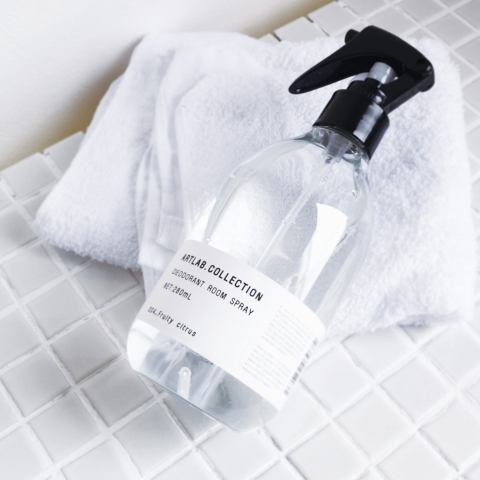 ARTLAB. COLLECTION – Deodorant Room Spray
¥1,800 (tax excl.)
It is a convenient spray as deodorant component is contained.
Enjoy in your room, entrance and bathroom where needs to be deodorized.
You may also use it as fabric mist.
| | |
| --- | --- |
| Size | φ65×H180mm |
| Quantity | 280mL (approx. 1,000pushs) |
*Please be aware that the fragrance duration varies with climate, temperature, humidity, room size and where the product is placed.
*Due to a characteristic of fragrance, it may be slightly colored or have a muddiness, however, this does not affect the quality of the product.
Deep blue

ALBR−001
(4530754039651)

Inspired by deep ocean blue.

Sweet floral

ALBR−002
(4530754039668)

Sweet and rich floral scent.

Musk savon

ALBR−003
(4530754039675)

Gentle and relaxing fragrance of savon.

Fruity citrus

ALBR−004
(4530754039682)

Fresh and juicy fragrance of citrus.

Fresh green

ALBR−005
(4530754039699)

Gentle green scent that surrounds you.

Tea leaves

ALBR−006
(4530754045416)

Light and refreshing fragrance of green tea.

Freesia

ALBR−007
(4530754045423)

Sweet and charming fragrance of freesia.

Herb garden

ALBR−008
(4530754045430)

Lovely and graceful fragrance of flowering herb.