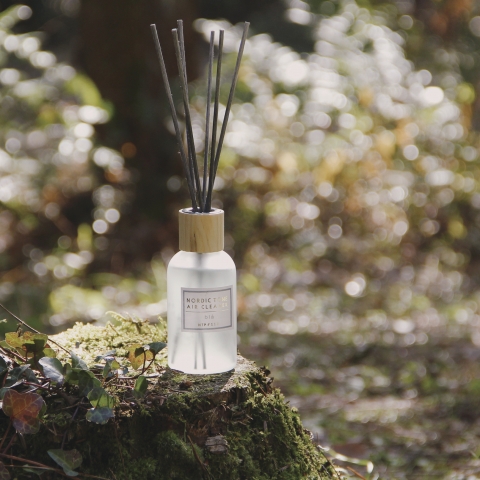 NORDIC TONE – Air Cleaner Diffuser
¥1,900 (tax excl.)
A pure vegetable deodorant "NTP-F118" is blended which effect to keep the space deodorized. The freshness provided by air cleaner feels like standing in a forest.
The design is plain and tidy that can match to any space. It is recommended for a gift.

About NTP-F118
- Deodorize by a gift from forest -
"NTP-F118" is made of 118 plant's ingredient such as a pine tree, green tea, Sasa albo-marginata, aloe, gynostemma, ginkgo tree, plantain, persimmon, corn, eucommia ulmoides. It does not harm our health and environment as no chemical substance is applied. We are concerned about the environmental preservation by using a lumber from thinning as a raw material.
| | |
| --- | --- |
| Size | W60×D60×H260mm |
| Quantity | 115ml oil + 6 pieces reed stick |
| Fragrance duration | approx. 1 month |
※Please be aware that the fragrance duration varies with climate, temperature,humidity, room size and where the product is placed.
※Due to the nature of the fragrance, the liquid may have a slight color, however this does not affect the quality.
NORDIC TONE

The idea of manufacturing with a natural material is truly valued
and deeply rooted in North Europe.
Productions born from such heart is full of affection.
NORDIC TONE is a series you feel the nature of Northern
Europe and the gift of the forest in your room.
blå

NTD−101
(4530754038517)

"blå" is "blue" in Swedish.
At a truly silent lake, the air is embraced by a translucent scent.
From a deep blue lake of mysterious atmosphere, a bracing scent of bergamot feels like freshening your heart.

vit

NTD−102
(4530754038524)

"vit" is "white" in Swedish.
Endless white snow and ice of transparency, the stars in the night sky are embraced by a whimsical light.
Vit's lemon fragrance is somehow nostalgic.

grön

NTD−103
(4530754038531)

"grön" is "green" in Swedish.
The forest trees that survived a cold winter watch over a young bud in underground longing for a moment to bloom.
Gron is a fresh rosemary scent.