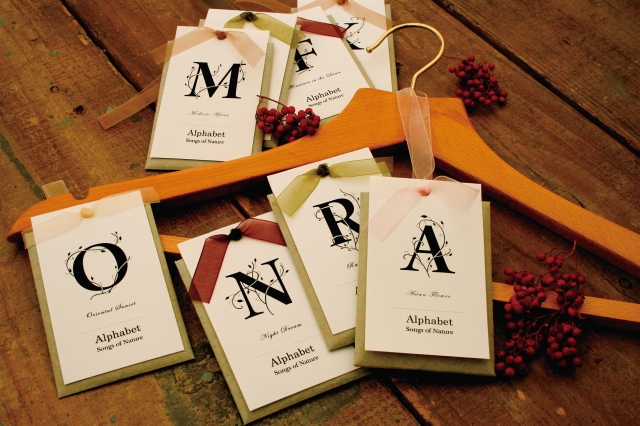 Alphabet series – Fragrant Sachet
¥380 (tax excl.)
The Fragrant Sachet is based on our popular Alphabet motifs and carries beads that give off a gentle fragrance from the inside. Place this in a closet or drawer and enjoy the gently wafting scents. With an organdy ribbon included, this product can be easily hung on a hanger, door knob, or your car's rear-view mirror.
| | |
| --- | --- |
| Size | W80×H125mm |
| Quantity | 5g of fragrant beads |
| Fragrance duration | approx. 1 to 2 months |
*Please be aware that the fragrance's duration varies with climate, temperature, humidity, room size and where the product is placed.
Asian Flower

SNF-101
(4530754030931)

An interplay of exotic flowers representative of Asia such as the orchid, lotus and ylang-ylang. This fragrance evokes a mature attractiveness by mixing a gorgeous and mysterious floral bouquet with aquatic amber and musk.

Modern Africa

SNF-103
(4530754030955)

A deep and fantastic fragrance of amber and white musk added to a woody blend of cedarwood, pine and cypress.

Oriental Sunset

SNF-104
(4530754030962)

A fragrance inspired by the setting sun on the East China Sea made from a blend of peach, mango, orange, chamomile, and jasmine flowers coupled with oolong tea.

Rain Forest

SNF-105
(4530754030979)

A blend of lotus, young bamboo, hyacinth and melon coupled with juicy fig and a note of mossy green. This fragrance is an expression of the jungle's dark green tones and features a touch of amber, vetiver and spicy vanilla in its base notes.

Japanese Garden

SNF-106
(4530754031020)

With top notes of tea, hyacinth and tangerine, this blend represents fresh Japanese trees. Inspired by a rich Japanese garden reflecting the passing seasons. It combines white musk, moss and sandalwood with honeysuckle and a special flowery blend.

Kind of Blue

SNF-107
(4530754031037)

A symphony of translucent blue performed by bergamot and fresh grapefruit. Adding a deep aquatic note to the hyacinth, violet and fruity blend in the middle. And it finishes with a rich base note of sandalwood, cedarwood and musk to create a scent which evokes images of the deep-ocean blue.

Night Dream

SNF-108
(4530754031044)

Topping woody green notes with spicy aromas of cinnamon and ginger. And it's also blending guava and truffles with oriental scents of jasmine and orchid. Finally the fragrance embodies a dream world filled with fantasies and exotic moods.

Star Dust

SNF-109
(4530754031051)

A crisp fragrance expressing the countless scattered stars through the translucent scents of bergamot, lemon and grapefruit. The flower blend of rose and lavender in the middle notes evoke images of paradise on the base notes of patchouli and cedarwood. This fragrance reminiscent of a panoramic view of the night sky from a solitary island in the South Pacific.

Young Bamboo

SNF-110
(4530754031068)

Featuring lush green notes of bamboo at the top and a slightly tense air of hyacinth and jasmine in the middle, on the base note of musk, cedarwood and patchouli. This fragrance expresses the image of a vibrant bamboo grove wrapped in a dignified air.

Emerald Ocean

SNF-113
(4530754031419)

Mixing ocean aromas with top notes of fig leaf, and bergamot on the middle note of lilac and oakmoss. This fragrance expresses green and blue imagery of the deep sea.

Heavenly Peace

SNF-114
(4530754031426)

Mixing mimosa with orange blossom, rose and muguet in a talcum powdery blend. Added with quince and white peach on the base note of spicy vanilla and musk. This fragrance expresses the fantastic Angel's smile in the peaceful Heaven.

Twilight Zone

SNF-115
(4530754031433)

Talc, lavender and clary sage have been added to a blend of sweet violet, iris and heliotrope. And then, mixed with an ozone note evoking the feeling of morning fog. This fragrance conveys a sense of timelessness found just before daybreak.