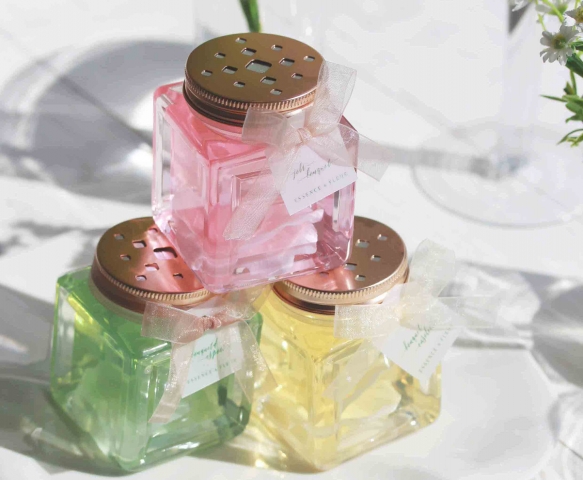 Libre bouquet – Fragrance Gel
¥780 (tax excl.)
Take joy in flowers and pleasant fragrance liberally.
Libre bouquet comes with a wish for living in your own way.
A sparkling jewel-like fragrance gel with flower petals inside.
Enjoy this gentle scent in cozy places such as at your bed-side, desk, or in your bathroom.
| | |
| --- | --- |
| Size | W60*D60*H80mm |
| Quantity | 180g Solid gel+ Flower petals |
| Fragrance duration | 1~1.5 months |
*Recommended for spaces 1.8 to 3.7 square meters in size.
*Please be aware that the fragrance's duration varies with climate, temperature, humidity, room size and where the product is placed.
*Please keep away from a hot-humid place.
Bouquet'd espoir

EFG-601
(4530754046451)

Purified fragrance evokes a pleasant feeling when gentle sunlight and breeze come from the window.

Joli bouquet

EFG-602
(4530754046468)

Adorable fragrance evokes a soft smile turning up to rosy cheeks.

Bouquet ensolille

EFG-603
(4530754046475)

Delightful fragrance evokes an inner peace when surrounding by bright sunshine.