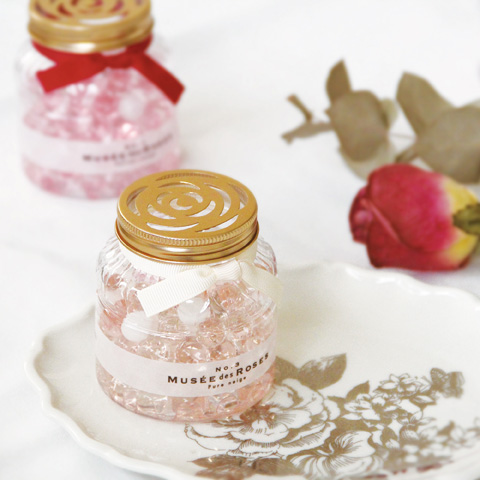 MUSÉE des ROSES – Fragrance Gel
¥750 (tax excl.)
A sparkling jewel-like fragrance gel with a charming ribbon.
Enjoy this gentle scent in cozy places such as at your bed-side, desk, or in your bathroom.
| | |
| --- | --- |
| Size | Φ70 ✕ H80mm |
| Quantity | 120g |
| Fragrance duration | approx. 1 month |
※Please be aware that the fragrance duration varies with climate, temperature, humidity, room size and where the product is placed.
※Please do not place in hot and damp locations, exposed to direct sunlight such as inside of vehicles during summer.

An original rose design hole is applied on the cap.
MUSÉE des ROSES
Aromatic scent leads you to a rose garden….
MUSÉE des ROSES = Museum of Roses
The art collection of fragrances is waiting for you.
Velvet rose

MRG-101
(4530754038326)

A passion and sharpness are veiled in a dignified impression of deep rouge.
A refined gorgeousness and a mysterious beauty convince its elegance.
"Velvet Rouge" is a fragrance of absolute beauty.

Princess rose

MRG-102
(4530754038333)

It is like a bloom of roses tempt us for a delightful tea time,
with its enchanted grace and nectarous scent.
The true beauty and strength comes from deep inside…
Princess rose is the most elegant and gentle fragrance.

Pure neige

MRG-103
(4530754038340)

A fresh brilliance is given off like a clear snow.
A transparent and delicate sweetness swing airily, which gives you a
pure impression.
The gentle fragrance of Pure neige fulfills you.