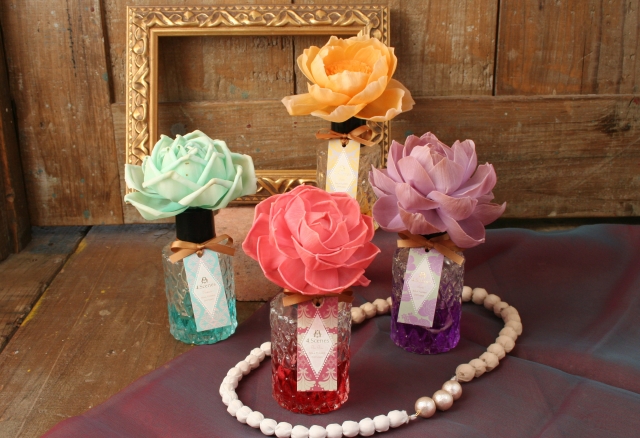 4.Scenes – Sola Flower Diffuser
¥1,800 (tax excl.)
This large-size Sola Flower Diffuser comes in a lovely decorative bottle. Emitting a profound atmosphere, these fragrances have emerged from 4 different scenes and add richness to everyday life.
Enjoy the fragrances' full-bodied tones. Wrapped in a luxurious package, this product makes the perfect gift.
| | |
| --- | --- |
| Size | W100×D100×H192mm |
| Quantity | 130ml oil, 1 Sola Flower |
| Fragrance duration | approx. 2 to 3 months |
*Please be aware that the fragrance's duration varies with climate, temperature, humidity, room size and where the product is placed.

*Due to the nature of the perfume, the liquid may change or lose color if placed in direct sunlight. This does not affect the quality of the perfume, however, it may affect the coloration of the flower, so please make sure products are properly stored.

*Please keep the stock of products not on display in your store in a cool dark place away from direct sunlight.

*Please be aware that the oil may volatilize and decrease in quantity if left unused for an extended period of time.

*Please store products properly, as the Sola Flower may mold if kept in a hot and damp environment.
Upon absorbing the oil, the flower's petals will change color and start emitting the fragrance

It takes 1 to 2 days for the Sola Flower to begin absorbing the oil, at which point, the color will gradually change.

As the flower stores the oil within its petals, you will still be able to enjoy the fragrance for another 2~3 months after the oil has been absorbed from the bottle.
Vacance

SCS-101
(4530754032393)

An aquatic recipe blending Mediterranean lavender, Sicilian lemon, hydrangea and more. A fragrance inspired by a holiday in the South of France.

The blue of the sky and sea, the beaming sunlight, a gentle pleasant wind. A time of dreams. Like a relaxing vacation spent with the one you love. Forget about your everyday worries and slow down. I want to experience this idyllic, ephemeral moment forever.

Tea time

SCS-102
(4530754032409)

A blend of lemon grass and pomelo on top with flowery notes of mimosa, orange blossom, honeysuckle and more. A fragrance inspired by tea time wrapped in the pleasant afternoon sun and the aroma of flowers.

Tea time spent with a close friend surrounded by the pleasant light of late afternoon. The table is decorated with flowers picked from the garden and tasty tea and sweets. You talk about your delicious lunch, yesterday's events and love, as you lose track of time caught up in conversation.

Siesta

SCS-103
(4530754032416)

Flowery notes of muguet, mandarin and white jasmine blended with the deep aroma of Nuwara Elliya (black tea). A fragrance inspired by a midday nap under a tree.

Showered in gentle light, you lie under a tree, reading a book in the warm bright afternoon. Surrounded by the scent of greenery and field flowers,
a song of the birds, and, at times, a pleasant breeze. As you become sleepy, you close the book and take a nap.

Soirée

SCS-104
(4530754032423)

Pomegranate, daffodils and ginger topped with floral notes of lilac, violet and rose. An exotic fragrance inspired by scenes of going out on a soiree wearing a deep purple dress with a velvet hue.

Tonight you are dressed in your best as you head out. You put on your favorite perfume and set out into an exotic world. A bright chandelier, velvet, the voices of people having fun and music. You become enraptured in the glamor of the moment.