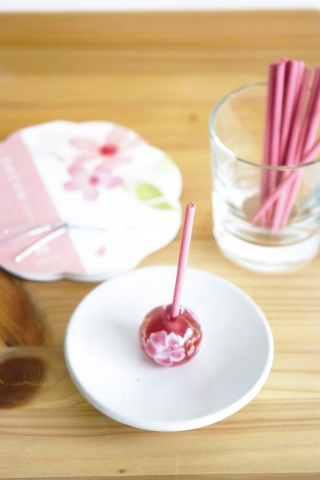 wanoka – Seasonal Incense
¥500 (tax excl.)
Incense of wanoka series is created by directly dipping into fragrant essence with handwork, to provide its sensitive fragrance. The raw material is carefully selected and smoke is well-prevented. This makes it possible to enjoy deeper fragrance.Also, the intricate flower design package makes this a perfect occasional gift.
| | |
| --- | --- |
| Size | Φ85mm |
| Quantity | short incense sticks 10 |
| Fragrance duration | approx. 18min |
*The color of the incense varies with the season.
*Incense holder is sold separately.
wanoka

Passage of the seasons,
Fragrance of four season flowers

Living with four seasons in Japan, temperature, color and scent change as to the arrival of each season.
These changes realize us 'the time' in our life.
"wanoka" reminds us a sensitivity of Japanese life style
and somehow brings you a relaxing moment.
SAKURA

WNIS-101
(4530754037169)

A sweet fragrance inspired by cherry blossoms.

SUIREN

WNIS-102
(4530754037176)

A clean fragrance of a water lily.

KINMOKUSEI

WNIS-103
(4530754037183)

A floral and sweet scent inspired by fragrant orange-colored olive.

TSUBAKI

WNIS-104
(4530754037190)

A graceful, deep fragrance inspired by camellia.

MOMO

WNIS-105
(4530754037206)

A sweet scent of peach.

AJISAI

WNIS-106
(4530754037213)

A gentle scent of hydrangea.

NADESHIKO

WNIS-107
(4530754037220)

A lovely fragrance of dianthus flower.

YUZU

WNIS-108
(4530754037237)

A citrus fragrance of Yuzu.

FUJI

WNIS-109
(4530754037244)

A dignified and brilliant scent of Japanese wisteria.

ASAGAO

WNIS-110
(4530754037251)

A crisp and cooling scent of morning glory flowers.

KOGIKU

WNIS-111
(4530754037268)

A sensitive and soft fragrance of small chrysanthemum flowers.

UME

WNIS-112
(4530754037275)

A sweet and sour scent of Japanese plum.