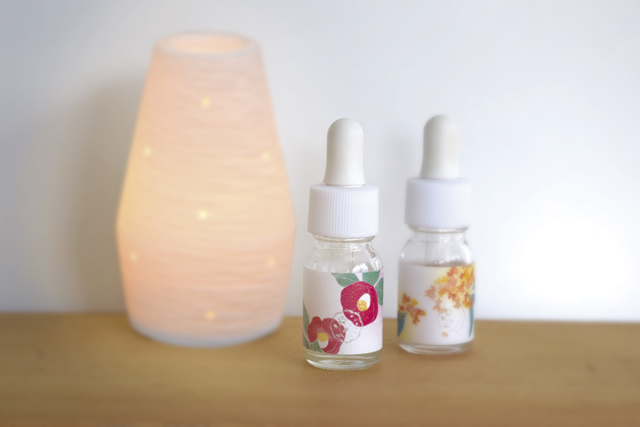 wanoka – KOUYU(Perfumed Oil)
¥780 (tax excl.)
Aroma oil with the concept of ""WA"", as Japanese culture.
Wanoka aroma oil is suitable for aroma light and aroma pot.
The aroma oil has properties which allow it to be readily dissolved in water, so you can easily use it with an aroma humidifier.
| | |
| --- | --- |
| Size | W28×D28×H83mm |
| Quantity | 10mL |
*Due to the characteristic of each type of oil, some may be darker color and muddy. This does not affect the quality of the aroma oil.
*Please take care as application to colored items or painted surfaces may damage the color.
wanoka

Passage of the seasons,
Fragrance of four season flowers

Living with four seasons in Japan, temperature, color and scent change as to the arrival of each season.
These changes realize us 'the time' in our life.
"wanoka" reminds us a sensitivity of Japanese life style
and somehow brings you a relaxing moment.
SAKURA

WNA-101
(4530754037121)

A sweet fragrance inspired by cherry blossoms.

SUIREN

WNA-102
(4530754037138)

A clean fragrance of a water lily.

KINMOKUSEI

WNA-103
(4530754037145)

A floral and sweet scent inspired by fragrant orange-colored olive.

TSUBAKI

WNA-104
(4530754037152)

A graceful, deep fragrance inspired by camellia.