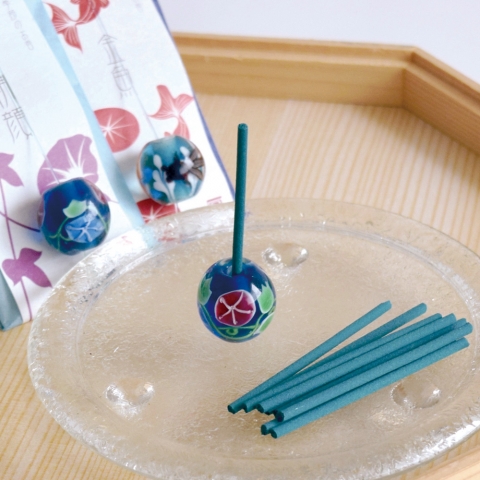 Seasonal Incense
¥1,200 (tax excl.)
The fragrances for this incense set were inspired by the seasons. The intricate design of the glass bead incense holder included in the package make this the perfect gift. The glass bead can also be used as an accessory.
| | |
| --- | --- |
| Size | W55×H90mm (glass bead Φ approx. 20mm) |
| Quantity | short incense sticks 10, glass bead |
| Fragrance duration | approx. 18min |
*The color of the incense varies with the season.
●Hinoki oil compound
Hinoki oil is made from cypress oil extracted predominantly from Aomori white cedar (approx. 1%) that is further separated and refined with only another 1% extracted making it an extremely valuable essential oil. It is known for having exceptional sanitizing, anti-inflammatory and antibacterial properties.
Sakura (Cherry Blossoms)

CTIS-101
(4530754028488)

A dignified and graceful fragrance inspired by cherry blossoms shrouded in morning mist

Shidare-zakura (Weeping Cherry Blossoms)

CTIS-102
(4530754028495)

A fascinating fragrance inspired by nighttime cherry blossoms

Kodemari (Spiraea)

CTIS-103
(4530754028501)

A vibrant, floral-type fragrance

Asagao (Morning glory)

CTIS-104
(4530754028518)

A crisp fragrance of morning glory flowers

Kingyo (Gold fish)

CTIS-105
(4530754028525)

A fresh fragrance inspired by early summer

Hasu (Lotus)

CTIS-106
(4530754028532)

A crisp floral scent inspired by the evening breeze

Usagi (Rabbit)

CTIS-107
(4530754028549)

A fragrance with an elegant perfume scent inspired by the moon

Kantsubaki (Camellia hiemalis)

CTIS-110
(4530754028570)

A graceful, deep fragrance inspired by winter camellia