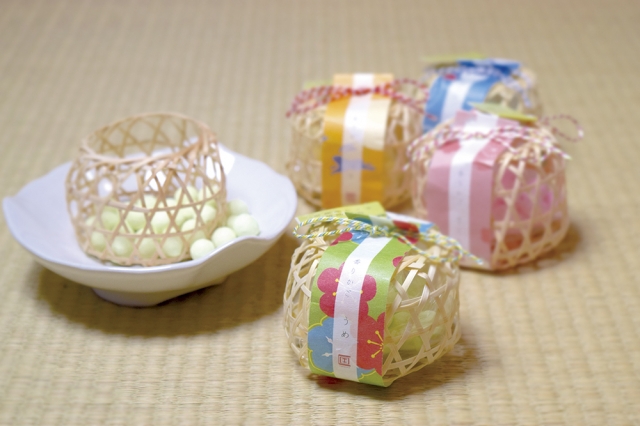 Fragrance Basket
¥580 (tax excl.)
These fragrance balls are shaped like cute Japanese sweets and come in a bamboo basket. Remove the plastic package and insert the fragrance balls directly in the bamboo basket to enjoy their scent. As this product is made using essential oils from Kyoto Hinoki, it offers overall freshness combined with a sense of depth and lasting fragrant notes. Use this refined fragrance to decorate your rooms.
| | |
| --- | --- |
| Size | Φ60×H40mm |
| Quantity | fragrance balls 11g |
| Fragrance duration | approx. 1 month |
*Please be aware that the fragrance's duration varies with climate, temperature, humidity, room size and where the product is placed.
*Please be aware that the shade of the colored fragrance balls may vary with production lot size.
●Made using Kyo-kumihimo Braided Cords
These braided cords are made by Showen Kumihimo, which has been in operation in Uji, Kyoto since 1948.
These top quality kumihimo are made entirely of silk that was specially selected for its beautiful color and material. Used for tying the obi of kimono, kumihimo braided cords are one of the traditional crafts still alive in Kyoto today.
The colors of the cords were inspired by the traditional layering of kimono and consist of original colors which give expression to the delicate tones of the 4 seasons.
Sakura (Cherry Blossoms)

CTKI-301
(4530754034922)

A fragrance inspired by the grace and loveliness of cherry blossoms

Mizu (Water)

CTKI-302
(4530754034939)

A fragrance inspired by the refreshing flow of water

Tsuki (Moon)

CTKI-303
(4530754034946)

A fragrance inspired by the gentle glow of the moon

Ume (Japanese Plum)

CTKI-304
(4530754034953)

A fragrance inspired by the gentle blossoming of plum flowers